Martin Hinner's
SEOlizer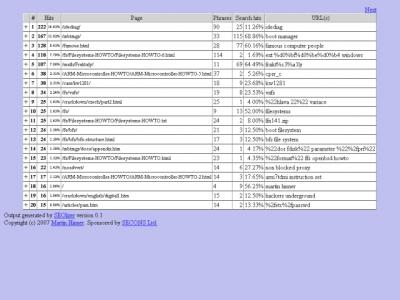 The SEOlizer is a GPL application that generates web pages of analysis, from webserver log files (Apache, etc). The seolizer is based on the webalizer code. Have a look at example of seolizer output!
Please note that the code is one-night hack, from my point of view it's a very very poor quality! It is not recommended to run seolizer on a production server. I have published the seolizer to get some feedback from SEO community. Stable version will be available in several months, after I make clear decision how to implement all required features. Your feedback is appreciated !
Compile seolizer by running make all -C src. Then you can run it using ./seolizer [logfile]. Output will be placed in the current directory.
Known bugs
Does not process logs incrementally
Code needs major clean-up
Add configuration file support
Future plans
Pagerank history for most popular pages
List of pages that did not appear in search engine results
I plan to fix known bugs and implement the above stuff for my own purposes. If you want anything else, for example what is listed below (and what I consider to be useful for SEO purposes), please send me an e-mail.
Goal analysis
Unknown webspiders/robots detection
Graphs for all important tables
Visitor source (backlink, search engine, undefined) and type (robots, real visitor) comparison
SEOlizer functions
Web spiders daily/monthly crawling reports (incl. bot's IP addresses)
Keyword and phrase analysis, displays pages that matched query
Most popular pages for search engine query results and relevant keywords and phrases
Fully static HTML
About SEO
Search engine optimization (SEO) as a subset of search engine marketing seeks to improve the number and quality of visitors to a web site from "natural" ("organic" or "algorithmic") search results. The quality of visitor traffic can be measured by how often a visitor using a specific keyword leads to a desired conversion action, such as making a purchase or requesting further information. In effect, SEO is marketing by appealing first to machine algorithms to increase search engine relevance and secondly to human visitors.
Download
ftp://ftp.penguin.cz/pub/users/mhi/seolizer/
See also
Last modified on June 02, 2007