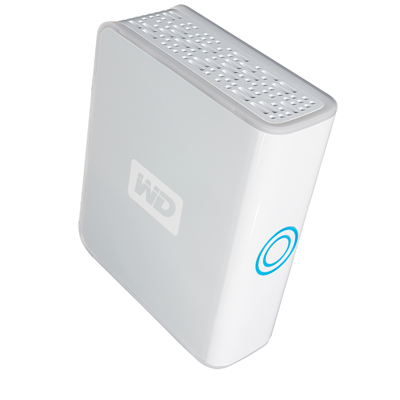 Western Digital MyBook World Edition Internals
MyBook is powered by OnSemi OXE800SE ARM9 chip.
OnSemi OXE800SE features
ARM926 processor
Integrated Gigabit Ethernet MAC
Integrated SATA core and PHY
Integrated USB host controllers and PHYs
High speed AES-128 encryption core
PCI interface supporting system expansion
Open standard Linux OS
The OXE800SE is a highly integrated device for network attached storage products. Optimized for consumer applications, the OXE800SE integrates an Ethernet MAC, three USB host ports and a SATA host controller. The device requires a minimal number of external components thereby providing OEMs with the right balance between performance and cost of ownership. Supporting real-time encryption to the Advanced Encryption Standard (AES), the OXE800SE ensures sensitive personal data are kept secure and protected. In addition the PCI interface enables simple system expansion to support wireless network clients.
Based around the world-renowned ARM9 processor, the OXE800SE runs the Linux OS to ensure development of customer specific features and applications is both simple and rapid. In addition Oxford Semiconductor provides a comprehensive support package including evaluation boards, a software development kit as well as configuration and production utilities to minimize time to market.
Processes on "almost virgin" MyBook

  PID TTY      STAT   TIME COMMAND
    1 ?        Ss     0:00 init
    2 ?        SN     0:00 [ksoftirqd/0]
    3 ?        S<     0:00 [events/0]
    4 ?        S<     0:00 [khelper]
    5 ?        S<     0:00 [kthread]
    9 ?        S<     0:00  \_ [kblockd/0]
   37 ?        S      0:00  \_ [pdflush]
   36 ?        S      0:00  \_ [pdflush]
   39 ?        S<     0:00  \_ [aio/0]
  146 ?        S<     0:00  \_ [sata-endQ]
  147 ?        S<     0:00  \_ [scsi_eh_0]
  143 ?        S<     0:00  \_ [ata/0]
  153 ?        S<     0:00  \_ [scsi_eh_1]
  152 ?        S<     0:00  \_ [sata-endQ]
  164 ?        S<     0:00  \_ [kcryptd/0]
  165 ?        S<     0:00  \_ [kcryptd/0]
  168 ?        S<     0:00  \_ [md4_raid1]
  170 ?        S<     0:00  \_ [md3_raid1]
  172 ?        S<     0:00  \_ [md2_raid1]
  174 ?        S<     0:00  \_ [md1_raid1]
  175 ?        S<     0:00  \_ [kjournald]
  183 ?        S<     0:00  \_ [kjournald]
  185 ?        S<     0:00  \_ [kjournald]
  484 ?        S<     0:00  \_ [khubd]
   38 ?        S      0:00 [kswapd0]
  666 ?        S      0:00 /bin/bash /usr/local/wdc/fuel-gauge
 2665 ?        S      0:00  \_ sleep 300
  678 ?        S      0:00 /usr/local/wdc/heat-monitor
  700 ?        S      0:00 /sbin/keyring
  759 ?        SL     0:00 /usr/sbin/ntpd -p /var/run/ntpd.pid
  763 ?        S      0:00 /usr/sbin/inetd
  767 ?        S      0:00 /sbin/mDNSResponderPosix -f /etc/mDNSResponderPosix -b
  774 ?        S      0:00 /usr/sbin/lighttpd -f /etc/lighttpd/lighttpd.conf
  778 ?        S      1:04  \_ perl /usr/www/lib/nasMaster.pl
  790 ?        S      0:00 /usr/sbin/crond -c /etc/crontabs
  805 ?        S<     0:04 /usr/mionet/bin/cvm -Djava.class.path=/usr/mionet/xml-apis.jar:/usr/mionet/crimson.jar:/usr/mionet/Senvid.jar:/usr/mionet/cryptix.j
  807 ?        S<     0:00  \_ /usr/mionet/bin/cvm -Djava.class.path=/usr/mionet/xml-apis.jar:/usr/mionet/crimson.jar:/usr/mionet/Senvid.jar:/usr/mionet/crypt
  809 ?        S<     0:00      \_ /usr/mionet/bin/cvm -Djava.class.path=/usr/mionet/xml-apis.jar:/usr/mionet/crimson.jar:/usr/mionet/Senvid.jar:/usr/mionet/c
  808 ?        S<     0:00      \_ /usr/mionet/bin/cvm -Djava.class.path=/usr/mionet/xml-apis.jar:/usr/mionet/crimson.jar:/usr/mionet/Senvid.jar:/usr/mionet/c
  859 ?        S<     0:00      \_ /usr/mionet/bin/cvm -Djava.class.path=/usr/mionet/xml-apis.jar:/usr/mionet/crimson.jar:/usr/mionet/Senvid.jar:/usr/mionet/c
  860 ?        S<     0:01      \_ /usr/mionet/bin/cvm -Djava.class.path=/usr/mionet/xml-apis.jar:/usr/mionet/crimson.jar:/usr/mionet/Senvid.jar:/usr/mionet/c
  861 ?        S<     0:00      \_ /usr/mionet/bin/cvm -Djava.class.path=/usr/mionet/xml-apis.jar:/usr/mionet/crimson.jar:/usr/mionet/Senvid.jar:/usr/mionet/c
  862 ?        S<     0:00      \_ /usr/mionet/bin/cvm -Djava.class.path=/usr/mionet/xml-apis.jar:/usr/mionet/crimson.jar:/usr/mionet/Senvid.jar:/usr/mionet/c
  829 ?        S      0:00 /usr/mionet/changeNotifySocket
  845 ?        S      0:00  \_ /usr/mionet/changeNotifySocket
  847 ?        S      0:00      \_ /usr/mionet/changeNotifySocket
  846 ?        S      0:00      \_ /usr/mionet/changeNotifySocket
  850 ?        S      0:00      \_ /usr/mionet/changeNotifySocket
  830 ?        S      0:00 /bin/sh /usr/mionet/monitorCVM.sh
 2780 ?        S      0:00  \_ sleep 30
  835 ?        S      0:00 udhcpc -n -p /var/run/udhcpc.eth0.pid -i eth0 -H mhidata
  840 ttyS0    Ss+    0:00 /sbin/getty -L ttyS0 115200 vt100
  841 ?        Ss     0:00 /sbin/syslogd -n -m 0
  842 ?        Ss     0:00 /sbin/klogd -n
 1272 ?        S      0:03 /usr/sbin/sshd
 1455 ?        Ss     0:00  \_ /usr/sbin/sshd: mhinner [priv]
 1457 ?        S      0:03      \_ /usr/sbin/sshd: mhinner@pts/0
 1458 pts/0    Ss+    0:00          \_ -sh
 2759 pts/0    S+     0:00              \_ -bash
 2785 pts/0    R+     0:00                  \_ ps axf

partitions

Filesystem            Size  Used Avail Use% Mounted on
rootfs                2.8G  263M  2.4G  10% /
/dev/root             2.8G  263M  2.4G  10% /
/dev/md3              950M   19M  884M   3% /var
/dev/md4              290G  191M  290G   1% /shares/internal

dmesg output

<5>Linux version 2.6.17.14 (clarke@mccoy.oxsemi.com.asic.oxsemi.com) (gcc version 4.1.0) #1 PREEMPT Mon Mar 26 12:36:33 BST 2007
<4>CPU: ARM926EJ-Sid(wb) [41069265] revision 5 (ARMv5TEJ)
<4>Machine: Oxsemi NAS
<4>Ignoring unrecognised tag 0x00000000
<4>Memory policy: ECC disabled, Data cache writeback
<7>On node 0 totalpages: 8192
<7>  DMA zone: 8192 pages, LIFO batch:1
<4>CPU0: D VIVT write-back cache
<4>CPU0: I cache: 32768 bytes, associativity 4, 32 byte lines, 256 sets
<4>CPU0: D cache: 32768 bytes, associativity 4, 32 byte lines, 256 sets
<4>Built 1 zonelists
<5>Kernel command line: mem=32M console=ttyS0,115200 root=/dev/md1 netdev=0,0,0x0090A915,0x4D23,eth0
<4>PID hash table entries: 256 (order: 8, 1024 bytes)
<4>Console: colour dummy device 80x30
<6>Using fractional divider baud 115200, clock 100000000 dlf 40
<4>Dentry cache hash table entries: 4096 (order: 2, 16384 bytes)
<4>Inode-cache hash table entries: 2048 (order: 1, 8192 bytes)
<6>Memory: 32MB = 32MB total
<5>Memory: 29916KB available (2020K code, 349K data, 96K init)
<7>Calibrating delay loop... 99.73 BogoMIPS (lpj=498688)
<4>Mount-cache hash table entries: 512
<6>CPU: Testing write buffer coherency: ok
<6>NET: Registered protocol family 16
<6>Number of DMA channels = 5, version = 4
<4>Allocating 224 SRAM generic DMA descriptors
<4>PCI: Scanning bus 0000:00
<4>PCI: Found 0000:00:07.0 [1106/3119] 000200 00
<4>PCI: Fixups for bus 0000:00
<6>PCI: bus0: Fast back to back transfers disabled
<4>PCI: Bus scan for 0000:00 returning with max=00
<5>SCSI subsystem initialized
<6>NET: Registered protocol family 2
<4>IP route cache hash table entries: 256 (order: -2, 1024 bytes)
<4>TCP established hash table entries: 1024 (order: 0, 4096 bytes)
<4>TCP bind hash table entries: 512 (order: -1, 2048 bytes)
<6>TCP: Hash tables configured (established 1024 bind 512)
<6>TCP reno registered
<1>Hello, LED trigger
<4>NetWinder Floating Point Emulator V0.97 (double precision)
<6>Initializing Cryptographic API
<6>io scheduler noop registered
<6>io scheduler anticipatory registered (default)
<6>io scheduler deadline registered
<6>io scheduler cfq registered
<6>Serial: 8250/16550 driver $Revision: 1.90 $ 4 ports, IRQ sharing disabled
<6>serial8250: ttyS0 at MMIO 0x44300000 (irq = 24) is a 16550A
<4>RAMDISK driver initialized: 16 RAM disks of 10240K size 1024 blocksize
<6>loop: loaded (max 8 devices)
<6>VIA Networking Velocity Family Gigabit Ethernet Adapter Driver Ver. 1.13
<6>Copyright (c) 2002, 2003 VIA Networking Technologies, Inc.
<6>Copyright (c) 2004 Red Hat Inc.
<4>PCI: enabling device 0000:00:07.0 (0140 -> 0143)
<6>eth0: VIA Networking Velocity Family Gigabit Ethernet Adapter
<6>eth0: Ethernet Address: 00:90:A9:15:4D:23
<7>libata version 1.20 loaded.
<6>ox800sata init
<6>ox800sata: 924 based sata core.
<6>ata1: SATA max UDMA/133 cmd 0x0 ctl 0x0 bmdma 0x0 irq 18
<6>ata1: SATA link up 1.5 Gbps (SStatus 113)
<7>ata1: dev 0 cfg 49:2f00 82:746b 83:7f61 84:4123 85:7469 86:bc41 87:4123 88:007f
<6>ata1: dev 0 ATA-7, max UDMA/133, 625142448 sectors: LBA48
<6>ata1: dev 0 configured for UDMA/133
<6>scsi0 : ox800sata
<5>  Vendor: ATA       Model: WDC WD3200AAJS-0  Rev: 12.0
<5>  Type:   Direct-Access                      ANSI SCSI revision: 05
<6>ox800sata: 924 based sata core.
<6>ata2: SATA max UDMA/133 cmd 0x0 ctl 0x0 bmdma 0x0 irq 19
<6>ata2: SATA link down (SStatus 0)
<6>scsi1 : ox800sata
<5>SCSI device sda: 625142448 512-byte hdwr sectors (320073 MB)
<5>sda: Write Protect is off
<7>sda: Mode Sense: 00 3a 00 00
<5>SCSI device sda: drive cache: write back
<5>SCSI device sda: 625142448 512-byte hdwr sectors (320073 MB)
<5>sda: Write Protect is off
<7>sda: Mode Sense: 00 3a 00 00
<5>SCSI device sda: drive cache: write back
<6> sda: sda1 sda2 sda3 sda4
<5>sd 0:0:0:0: Attached scsi disk sda
<6>mice: PS/2 mouse device common for all mice
<6>md: linear personality registered for level -1
<6>md: raid1 personality registered for level 1
<6>md: md driver 0.90.3 MAX_MD_DEVS=256, MD_SB_DISKS=27
<6>md: bitmap version 4.39
<6>device-mapper: 4.6.0-ioctl (2006-02-17) initialised: dm-devel@redhat.com
<6>TCP bic registered
<6>NET: Registered protocol family 1
<6>NET: Registered protocol family 17
<6>md: Autodetecting RAID arrays.
<6>md: autorun ...
<6>md: considering sda4 ...
<6>md:  adding sda4 ...
<4>md: sda3 has different UUID to sda4
<4>md: sda2 has different UUID to sda4
<4>md: sda1 has different UUID to sda4
<6>md: created md4
<6>md: bind<sda4>
<6>md: running: <sda4>
<4>raid1 run
<6>raid1: raid set md4 active with 1 out of 2 mirrors
<6>md: considering sda3 ...
<6>md:  adding sda3 ...
<4>md: sda2 has different UUID to sda3
<4>md: sda1 has different UUID to sda3
<6>md: created md3
<6>md: bind<sda3>
<6>md: running: <sda3>
<4>raid1 run
<6>raid1: raid set md3 active with 1 out of 2 mirrors
<6>md: considering sda2 ...
<6>md:  adding sda2 ...
<4>md: sda1 has different UUID to sda2
<6>md: created md2
<6>md: bind<sda2>
<6>md: running: <sda2>
<4>raid1 run
<6>raid1: raid set md2 active with 1 out of 2 mirrors
<6>md: considering sda1 ...
<6>md:  adding sda1 ...
<6>md: created md1
<6>md: bind<sda1>
<6>md: running: <sda1>
<4>raid1 run
<6>raid1: raid set md1 active with 1 out of 2 mirrors
<6>md: ... autorun DONE.
<6>kjournald starting.  Commit interval 5 seconds
<6>EXT3 FS on md1, internal journal
<6>EXT3-fs: mounted filesystem with ordered data mode.
<4>VFS: Mounted root (ext3 filesystem).
<6>Freeing init memory: 96K
<6>Using fractional divider baud 115200, clock 100000000 dlf 40
<6>Using fractional divider baud 115200, clock 100000000 dlf 40
<6>Using fractional divider baud 115200, clock 100000000 dlf 40
<6>Using fractional divider baud 115200, clock 100000000 dlf 40
<6>kjournald starting.  Commit interval 5 seconds
<6>EXT3 FS on md3, internal journal
<6>EXT3-fs: mounted filesystem with ordered data mode.
<6>kjournald starting.  Commit interval 5 seconds
<6>EXT3 FS on md4, internal journal
<6>EXT3-fs: mounted filesystem with ordered data mode.
<6>Using fractional divider baud 115200, clock 100000000 dlf 40
<6>Using fractional divider baud 115200, clock 100000000 dlf 40
<6>Using fractional divider baud 115200, clock 100000000 dlf 40
<6>Adding 104312k swap on /dev/md2.  Priority:-1 extents:1 across:104312k
<6>Using fractional divider baud 115200, clock 100000000 dlf 40
<6>Using fractional divider baud 115200, clock 100000000 dlf 40
<6>Using fractional divider baud 115200, clock 100000000 dlf 40
<6>Using fractional divider baud 115200, clock 100000000 dlf 40
<6>Using fractional divider baud 115200, clock 100000000 dlf 40
<6>Using fractional divider baud 115200, clock 100000000 dlf 40
<6>Using fractional divider baud 115200, clock 100000000 dlf 40
<6>wdc-leds:  FAST_TPS=960, SLOW_TPS=32
<6>Registered led device: wdc-leds:power
<6>Registered led device: wdc-leds:activity
<6>Registered led device: wdc-leds:ignore-act
<6>Registered led device: wdc-leds:transition
<6>Registered led device: wdc-leds:fuel-gauge
<6>Registered led device: wdc-leds:rebuilding
<6>Registered led device: wdc-leds:degraded
<6>Registered led device: wdc-leds:over-temp
<6>Using fractional divider baud 115200, clock 100000000 dlf 40
<7>Fan probe
<6>WDC_Fan initialized
<6>Using fractional divider baud 115200, clock 100000000 dlf 40
<6>Using fractional divider baud 115200, clock 100000000 dlf 40
<6>i2c_oxnas_bitbash_init: i2c OX800 driver init
<6>Using fractional divider baud 115200, clock 100000000 dlf 40
<6>usbcore: registered new driver usbfs
<6>usbcore: registered new driver hub
<4>12 May 2005 USB 2.0 'Enhanced' Host Controller (EHCI) Driver for OXNAS@e7000000 Device ID register 42fa05
<6>oxnas-ehci oxnas-ehci: OXNAS EHCI Host Controller
<6>oxnas-ehci oxnas-ehci: new USB bus registered, assigned bus number 1
<6>oxnas-ehci oxnas-ehci: irq 7, io mem 0x00000000
<6>oxnas-ehci oxnas-ehci: USB 0.0 started, EHCI 1.00, driver 12 May 2005
<6>usb usb1: configuration #1 chosen from 1 choice
<6>hub 1-0:1.0: USB hub found
<6>hub 1-0:1.0: 3 ports detected
<6>Using fractional divider baud 115200, clock 100000000 dlf 40
<6>Initializing USB Mass Storage driver...
<6>usbcore: registered new driver usb-storage
<6>USB Mass Storage support registered.
<6>Using fractional divider baud 115200, clock 100000000 dlf 40
<6>Using fractional divider baud 115200, clock 100000000 dlf 40
<6>Using fractional divider baud 115200, clock 100000000 dlf 40
<6>Using fractional divider baud 115200, clock 100000000 dlf 40
<6>WDC Fan speed set 100
<4>Velocity is AUTO mode
<5>eth0: Link autonegation speed 100M bps full duplex
<6>WDC Fan speed set 50
<6>WDC Fan speed set 0
<6>Using fractional divider baud 115200, clock 100000000 dlf 40
<6>Using fractional divider baud 115200, clock 100000000 dlf 40

Last modified on June 23, 2007